Cannabis-Infused Croissants
Eating croissants? Easy! Making croissants? Easy! Yes, really. Today we're going to gather up our confidence in the kitchen and make Cannabis-Infused Croissants.
I used to be scared of making croissants. They are fidgety, finicky and if you don't get it just right? They are a disaster!
This recipe though, with it's easy-to-follow instructions and methods to infused cannabis inside are honest-to-goodness EASY!
Finally!
Some of the extra ingredients required here are patience, time, and more patience – add about 10 cups of patience.
Be prepared to get better acquainted with your kitchen, throw on some music, and let's get baking!
---
What To Avoid When Making Croissants
One of the biggest mistakes when making croissants is the difference between cold ingredients and room temperatures ones.
Everything should be and must always be COLD when making croissants.
Another big mistake is the evenness of the dough. When you roll out your dough, and are ready to shape your croissants, make sure everything is perfectly even so they all bake at the same time, at the right time, and one isn't bigger than the other.
Rolling pin – if you can, use a marble rolling pin OR you can put your rolling pin in the fridge before beginning.
Remember: everything as cold as possible without being frozen!
There's going to be a lot of chilling, resting, rolling and repeating this – so make sure you have a good movie or show to watch on Netflix or Prime in between.
The last big mistake to avoid when making croissants? Rushing through it.
This is going to test your patience in all kinds of ways. Please make sure you have a lot of it ready!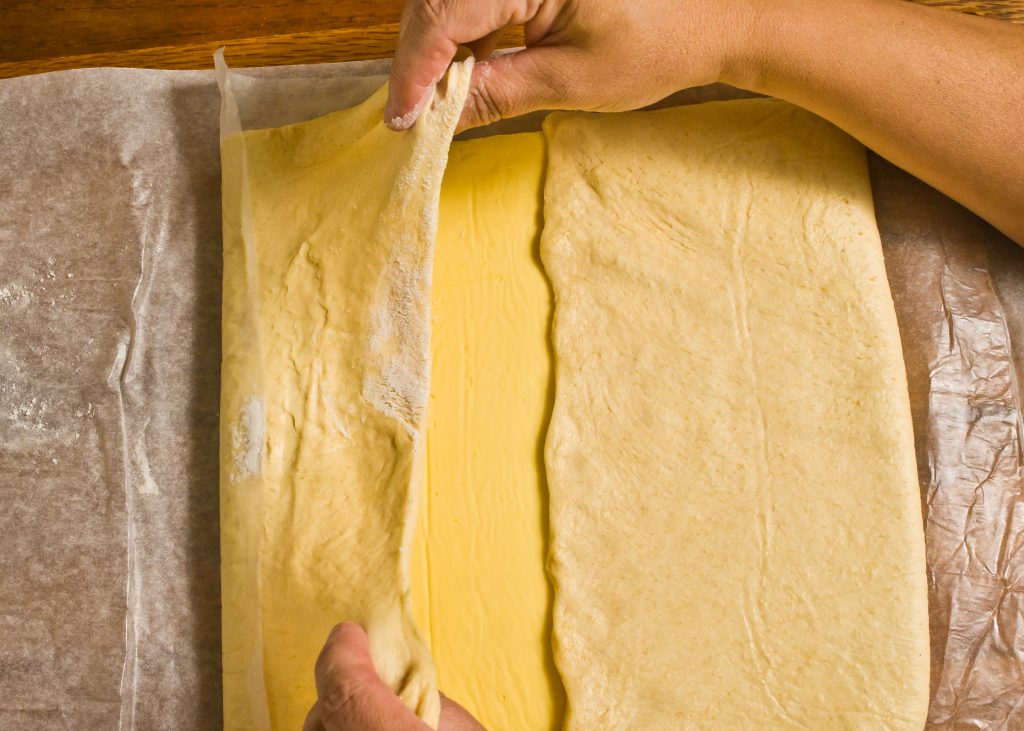 ---
How Do I Bake With Cannabutter?
The great thing about cannabutter is it's supreme versatility. You can use it in literally anything.
Just this morning I made a delicious edible egg-white omelet and used cannabutter in my cast iron skillet. YUM!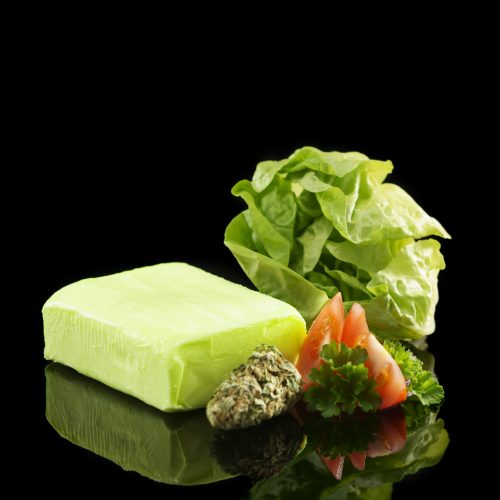 Servings: 1 Cup
Calories: 1628kcal
THC: 700-1400mg
Author: Steph Van De Ven
Decarboxylate your weed by spreading your cannabis evenly on an oven tray And coat with aluminum foil.

Place in the oven on 240F/115C for 25 till 45 minutes, and then let it cool.

Grind your dry cannabis or chop it till fine.

Place the cannabis in a strong mason jar, add butter and (1 tsp of sunflower lecithin)(optional)

Place your closed jar in cold water and let it come to a boil, Boil for 2 to 3 hours.

Strain your butter through a cheesecloth.

Cool down

Now you can use the Cannabis Butter (Cannabutter)
If using a mason jar, be sure to start with cold water. Furthermore, it is imperative to let the water cool gradually so that your glass will not shatter.
The video guide might be slightly different than the blog recipe. The blog recipe is the most updated and accurate.
Calories: 1628kcal | Carbohydrates: 1g | Protein: 2g | Fat: 184g | Saturated Fat: 117g | Cholesterol: 488mg | Sodium: 1621mg | Potassium: 54mg | Sugar: 1g | Vitamin A: 5673IU | Calcium: 54mg
---
Tips For Making Cannabis-Infused Croissants
Make sure you have loads of space in your kitchen to spread out and breathe.
Next, roll it out with a rolling pin into a large rectangle
Make the butter layer (yum!)
Roll the dough some more!
And yes, one more time – roll and fold the dough. (see? patience!)
Shape your croissants (which literally means crescents in French)
Bake, eat, enjoy!
Are you a visual learner?
Chef Gordon Ramsay visits a Boulangerie in Paris and shows you how in this video.
---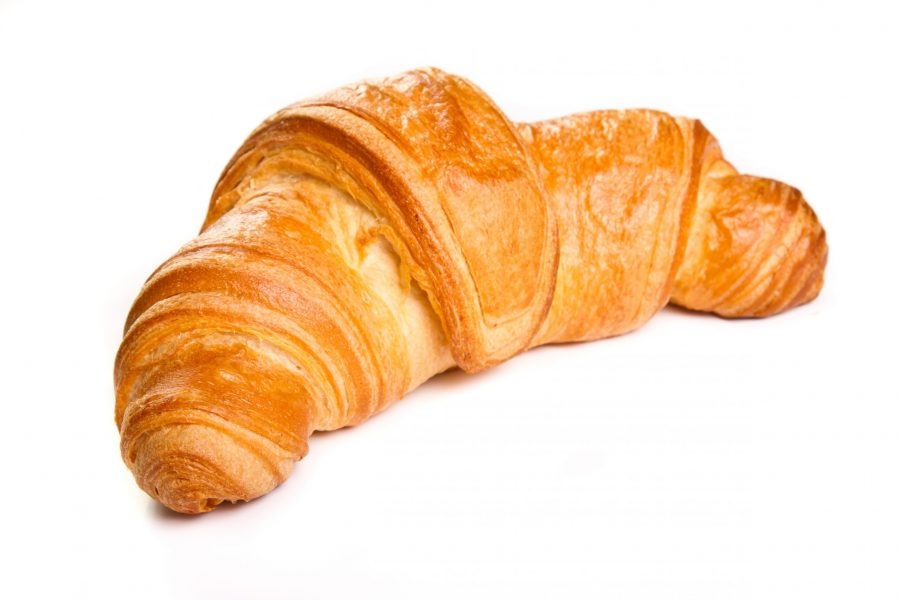 Author: Steph Van De Ven
Cost: 25+
1/4

cup

unsalted cannabutter

cold

4

cups

all-purpose flour

plus more for rolling and to lay on surface

1/4

cup

granulated sugar

2

tsp

salt

1

tbsp

active yeast

1 1/2

cups

cold, whole milk
Cannabutter Layer
Egg Wash
1

large

egg

2

tbsp

whole milk, cold.
Butter Layer
In a large bowl using a hand-held mixer or stand mixer fitted with a paddle, beat the cannabutter and flour together until smooth and combined.

Transfer the mixture to your paper lined cookie sheet.

Using a spoon or small spatula, smooth out into a 7×10-inch rectangle. Place the entire baking sheet in the refrigerator and chill the butter layer for 30 minutes.

(it doesn't need to be covered – but must be fairly firm)
"Laminate" the Dough
SHAPE YOUR CROISSANTS
1. Remove the dough from the refrigerator.

2. On a lightly floured counter, roll the dough out into an 8×20-inch rectangle.

3. Using a pizza cutter or sharp knife, slice the dough in half vertically.

4. Each skinny rectangle should be 4-inches wide.

5. Then cut 3 even slices horizontally. Cut each rectangle diagonally to make 2 triangles from one piece.

You should have 16 triangles now. Work with one triangle at a time.

Stretch the triangle pieces to be about 8 inches long each.

Do this gently as you do not want to flatten the layers.

Next, cut a small slit at the wide end of the triangle, then VERY gently roll from the wide part all the way down to the tiny little tip.

Curl or bend in the ends in towards each other.

Repeat with remaining triangles. Put 8 per cookie sheet.

Loosely cover with plastic wrap and allow to rest at room temperature for 1 hour, then place in the refrigerator to rest for 1 hour or up to 12 hours.

Preheat oven to 400°F

Whisk the egg wash ingredients together. Remove the croissants from the refrigerator. Brush each lightly with egg wash.

Bake until croissants are golden brown, about 20 minutes. Rotate the pans halfway through baking. If croissants show signs of darkening too quickly, reduce the temperature to 375°F

Let them cool for a little, and then enjoy!
If you're looking to up-level your canna-cooking game, you may want to start here.
For more recipes like this one, check out our recipe index here.
Share our post and comment below! We'd love to hear from you.
As always, happy canna-cooking!