As cannabis legalization has been becoming more widespread, the acceptability of a large number of other naturally occurring psychedelics has also been becoming more prevalent. A quick search through the internet will show you people administering both the substances together and lots and lots of anecdotal references to how the two react.
Mixing substances is a common occurrence dating back centuries. A study in 2006 went as far as to state that out of their study sample at least 60% of people regularly mixed cannabis with psilocybin.
With the way, the trends are shaping up. There is a likely possibility that cannabis and psilocybin might actually be decriminalized on a federal level very soon. Currently, the use and possession of psilocybin are only legal in two states namely Oregan and Washington DC.
So, why are people combining these two?

Effects of Combing The Two
A large part of whatever we know about the two together is on an anecdotal level. There is a glaring lack of research on both the substance thanks to their status as a Schedule 1 substance.
So, as far as we can figure out from the anecdotal research is that the experience of any psychedelic is an inherently personal experience. There are a variety of factors that play a role in determining how you end up after ingesting these substances like your mindset at that time, your environment, your company, and a lot more. This also means it is very tough to study the effects of these drugs in a controlled manner.
The biggest problem with using the two substances has to be your state of mind as the effects can be really strong.

Commonly Seen Effects Of Combining Psilocybin With Cannabis
Again I would like to throw caution to the wind and tell you that whatever is written in this entire blog is primarily based on anecdotal evidence and does will not necessarily show up in the same manner when you use these substances together.
Intense Trip
The most commonly associated effect is known to be an intense high which is not always the most pleasant. Like I mentioned before a large part of your experience is formed by how you are doing and feeling emotionally. Especially at the time when you decide to use the substances together as there is a big chance that whatever you might be feeling comes to the forefront. This can put you in a highly volatile situation if you aren't careful with the dosage of cannabis with your mushrooms.
Hallucinations Can be a Problem
In a literature review published in the Journal of Addictive Diseases, it was deciphered that since there is a stark increase in the emotional intensity can directly affect your brain causing a clinical representation of hallucinogen persisting perception disorder (HPPD), a condition that causes persistent recurring hallucinations whether you take substances or not.
In the study, three subjects who paired cannabis with other psilocybin substances claimed that their experiences were stressful and frightening. However, it is important that this was the outcome of a single clinical representation. Therefore, the sample size is too small to reach any conclusive answers.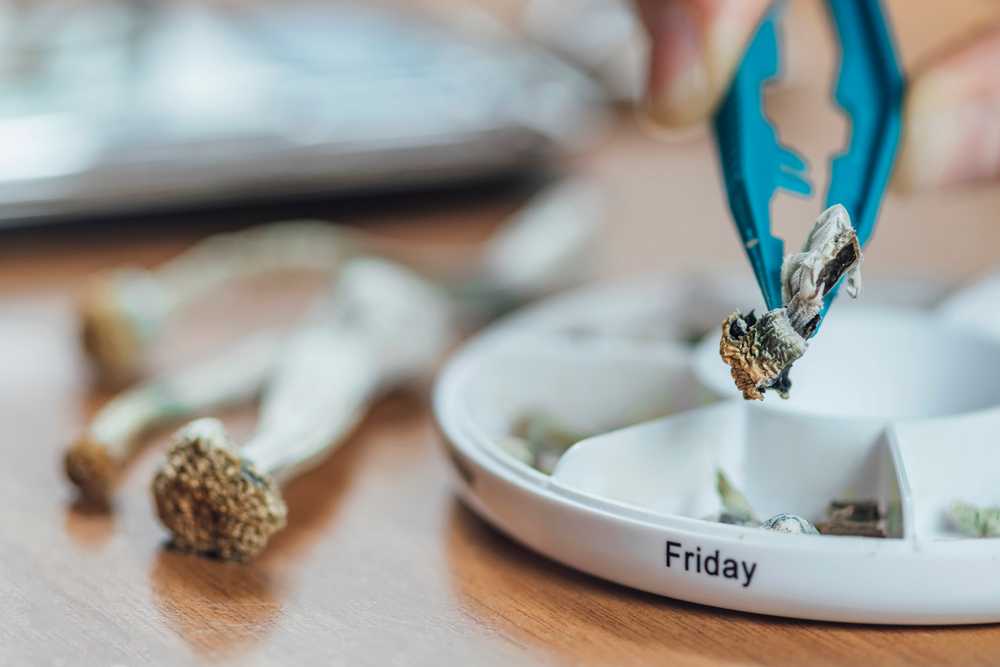 Microdosing Might Be Your Best Friend
Just sticking to one substance is the best practice lest you spin out of control. But if you really want to use cannabis as well, stick to microdosing. In whatever ratio is your choice. Either you can take make small amounts of psilocybin with cannabis or microdose cannabis with psilocybin.
Your experience will be a lot better. At least that's what people state. You will end up with higher energy levels, be more alert, creative, and above all a lot more focused.
However, is it Safe?
If you look at the study by the Global Drug Survey, you will see that psilocybin is responsible for sending the least number of people to the hospital. Most times the only reason people end up in hospitals is that they confuse the psychedelic kind with the poisonous kind.
Cannabis is actually pretty much harmless. There have been zero recorded deaths due to the consumption or overdose of cannabis.