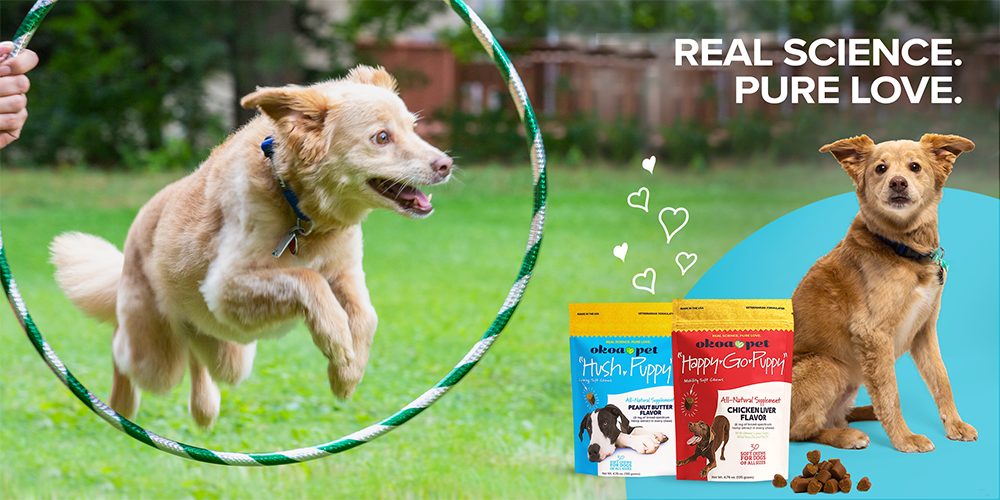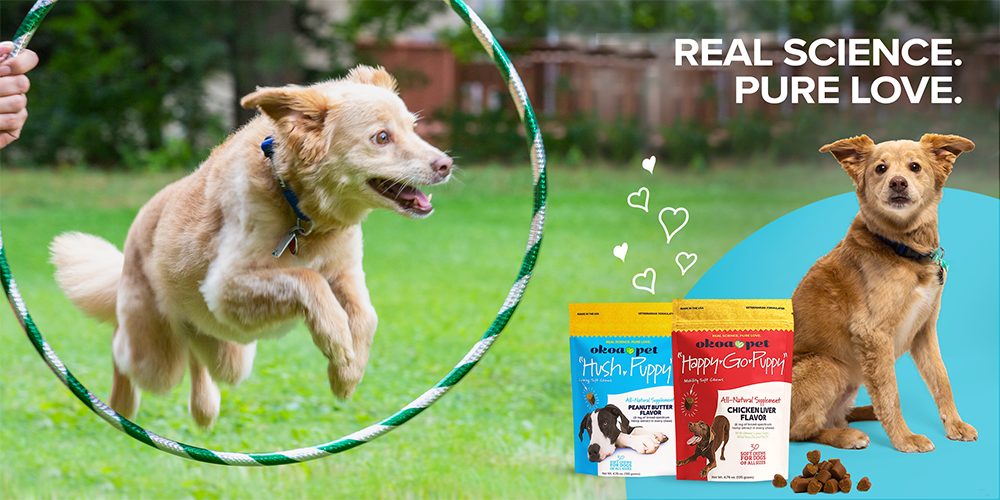 ""Okoa Pet is based on two pillars: the love of animals and the strength of veterinary science… exactly the combination you want for your pet."
– Nancy Retzlaff CEO Okoa Animal Health."
Love Meets Science with Okoa Pet products – all-natural, vet-formulated supplements combining organic, broad-spectrum hemp with naturally occurring CBD and other premium, proven ingredients. Okoa products safely and effectively calm anxious pets and help less mobile pets move comfortably again.
Commitment to quality is what distinguishes Okoa Pet at every level – in its people, in the ingredients that go into its products, and in the manufacturing and quality control processes that ensure what consumers see on the shelf is the safest, most effective product available.
"We know from our own pets the difficulties associated with their getting older: joint stiffness and pain, weight gain, and reduced mobility," said Okoa Pet's Veterinary Science Officer, Dr. Robert Silver, DVM, MS. "We also know that any pet can experience stress at any age and from any number of sources, including separation, strangers, and even the weather."
Okoa Pet products are designed to maximize the natural benefits of the hemp plant while ensuring consistency, quality, and, ultimately, safety. Okoa's approach to its products and to its mission is reflected in its name. O'koa is a Hawaiian word with several meanings, including:
Transparent. There's nothing hidden in Okoa products. It's all-natural, without the chemicals and the kind of additives that can cause serious side effects.
Different. Okoa is a company built from equal parts veterinary science and an unabashed love of animals. It's not enough that a supplement works; it also needs to be safe enough for the folks at Okoa to administer to their own pets. You won't find any one-size-fits-all approach at Okoa.
Whole. Okoa supplements are holistic in the best sense of that word. Okoa Pet products are designed to support specific conditions but with the whole pet in mind.
To see results on the outside – a healthy, happy, loving pet – Okoa relies on the science inside: premium ingredients that are natural, safe, and effective. These include:
Broad-Spectrum Hemp Extract with Naturally Occurring CBD*
Sourced from organically grown domestic hemp, Okoa's broad-spectrum hemp extract with naturally occurring CBD is rich in terpenes and minor cannabinoids such as CBC, CBG, and CBN. "To ensure our products are safe to use in pets, Okoa leverages a proprietary process to reduce the THC to negligible levels to eliminate any worry of THC psychoactivity," said Dr. Silver. "Dogs, in particular, are highly sensitive to THC, much more so than their human counterparts, so we want to be extra careful. By using a broad-spectrum product, pups can enjoy the whole plant benefits without risking the side effects they may be vulnerable to".
* For a detailed description of how broad-spectrum hemp differs from full-spectrum hemp and isolate, as well as the potential for hypersensitivity to THC in dogs and the differing reactions to it of dogs and humans, see: https://okoapet.com/broad-spectrum-full-spectrum-cbd-isolate-whats-the-difference/
Green-lipped mussel
Sourced from the fresh waters of New Zealand, green-lipped mussel contains a nutrient-rich blend of natural proteins, minerals, and omega-3 fatty acids which support a healthy immune response. The green-lipped mussel in Okoa Pet products is cold processed by a unique, proprietary method that retains optimum concentrations of omega-3 fatty acids. It contains up to five times more fatty acids than the freeze-dried GLM supplements currently available. Green-lipped supports a healthy immune response and keeps joint cartilage strong yet flexible.
Wild New Zealand roe oil
The roe oil in Okoa Pet products comes from the clean, clear waters of New Zealand. It is rich in the unique and powerful omega-3 fatty acid ETA. It also contains substantial amounts of EPA and DHA fatty acids to help keep joint surfaces slippery and friction-free.
Chamomile
Chamomile is well-known and appreciated for its calming effects. The dried flowers of chamomile contain many terpenoids and flavonoids, contributing to its potential as a useful calming supplement.
Tryptophan
Tryptophan is an essential amino acid that creates niacin, a precursor of the "feel-good" hormone serotonin. Several studies have shown that supplementing with tryptophan may help reduce stress, fear, and aggressive behavior in dogs.
Choline
Choline essential nutrient and precursor in the manufacture of acetylcholine, involved in memory, mood, muscle control, and motivation.
The genius behind Okoa Pet product formulas is Okoa's Veterinary Science Officer, Dr. Robert Silver. Dr. Rob (as he is familiarly known) established one of the first integrative veterinary practices in the United States in Boulder, Colorado, in 1993. As an herbalist and integrative veterinarian, he observed firsthand the benefits of herbal and nutraceutical approaches to support pet health and wellness.
The Okoa Pet product line-up:
"Hush, Puppy" calming soft chews is a calming supplement specially formulated to "take the worry out of furry" and helps nervous pups cope with stressful situations such as thunderstorms, fireworks celebrations, separation, long car rides, or any other changes in routine. The chews combine broad-spectrum hemp with naturally occurring CBD with other proven calming ingredients, including tryptophan, chamomile extract, and choline.
"Happy-Go-Puppy" mobility soft chews is a supplement for mobility and joint health, formulated to "put the pep back in your pup." It was created for pups that are getting on in years and starting to slow down or are less playful due to a lingering injury. The chews combine broad-spectrum hemp containing naturally occurring CBD with green-lipped mussel and Wild New Zealand roe oil. They help relieve stiffness, promote healthy joints and hips, and keep pups moving with comfort and ease.
All Okoa products are tested to ensure that they're effective, safe, and appealing to pets. Prior to the launch, for example, the company conducted an observational survey involving 25 dogs. "Happier," "calmer," "more chill" – that's how some participants described their pets. Or, about Okoa's "Happy-Go-Puppy" mobility chews, one happy dog owner said this: "The mobility chews have him moving like a puppy again." Or from another, whose dog suffers from severe arthritis: "Duke can now do the steps again, which he couldn't do a month ago."
Okoa Pet stands behind its products, with a commitment to quality unsurpassed in the industry. The company is relentless in its quality control, adhering to the highest level of quality, safety, and potency standards. The company uses an independent ISO 17025 certified lab to screen and test for potency and contamination. Okoa products are manufactured in the USA in facilities that are GMP-certified by the FDA. GMP certification refers to the FDA's guidelines for good manufacturing practices.
About Okoa Pet
Okoa Pet Health is a Boulder, CO-based private company co-founded by former pharmaceutical and biotechnology executive Nancy Retzlaff. An animal lover and advocate and pet parent of Casey, a 10-year old Cavalier King Charles Spaniel, Retzlaff was inspired to create a company committed to developing the highest quality CBD-based supplements for pets to support their wellness needs throughout their entire lives. The company is based on two pillars: love of animals and the strength of veterinary science.
Okoa Pet products are formulated by Dr. Robert Silver, a national leader in integrative veterinary medicine: www.okoapet.com
Media Contact
Company Name: Okoa Animal Health
Contact Person: Neshama Abraham
Email: Send Email
Phone: 303-596-4628
Country: United States
Website: https://independentpetretailers.com/featured-item/okoa-animal-health/
Source: http://www.digitaljournal.com/pr/4859041
» Inline Ad Purchase: Intext Link